Dear Joscelin,
Elua himself could ask for none
more loyal than you.
It is Cassiel's star
you vow to follow.
Oh my love, I have my vows too.
No, more than vows.
It is what I am.
Blood in my eye,
dark craving of my flesh -
my gods have laid this upon me.

I cannot lie when I say
I find pleasure in it.
But the sight of your face
makes me wish it were otherwise.
You kneel in the rain
praying to Cassiel for understanding.
I hate the sight of these austerities.
But it is what you are,
I've accepted that.
Please accept this!

Please accept me.
Oh Naamah, oh Kushiel,
give me strength to bear this.
I am more used to receiving pain
than dealing it!
Joscelin,
one I love best
among all mortal men and women.
Please let that be enough for you.

My gods call,
I must follow.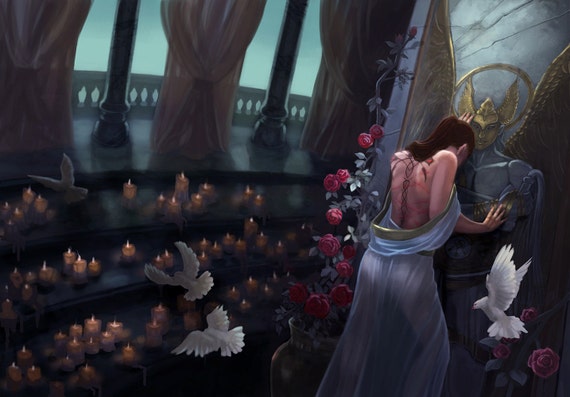 Art used with kind permission of the artist:
Song Choice:
Beth by Kiss
This poem was created from a prompt offered by
Magaly Guerrero
for
NaPoWriMo
(Day 22: Plant a poem within a tale; create a poem within a story I've read. The story I chose was
Kushiel's Chosen
, the second in the
Kushiel's Legacy
series. If you haven't read these, go do it now! It's an amazing series with some wonderful and engrossing world building)